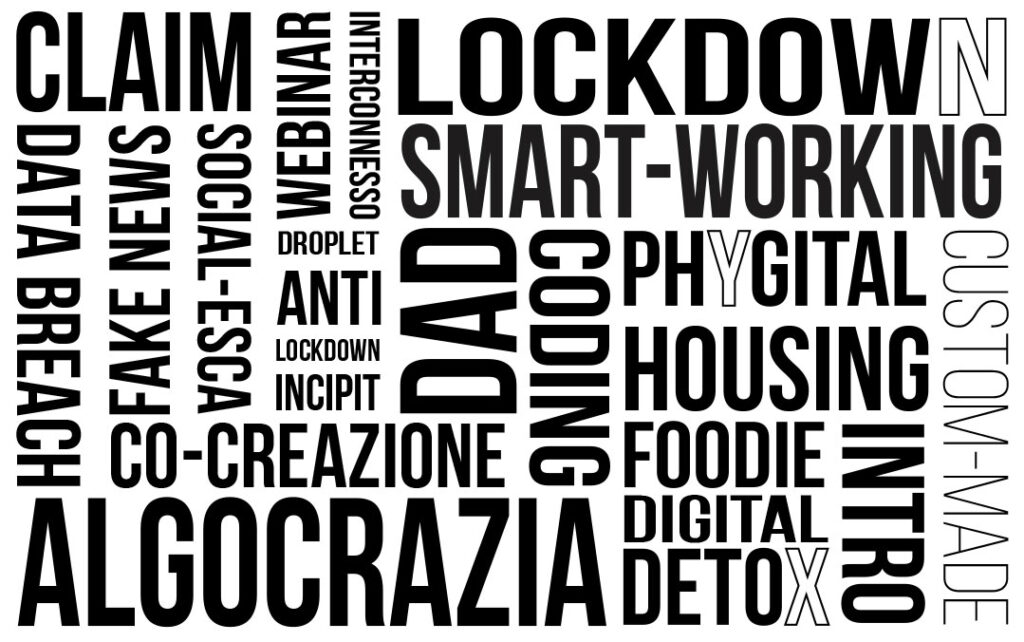 For more than 20 years, the editors of the Oxford English Dictionary have been signaling new terms in the English language. This year there is an exception, they publish special updates shortly during the Covid-19 emergency, a historical period that is influencing the meaning of some words even more.
For the most part these are compound words or in any case more complex like the expression zoombombing produced by continuous video calls, for strangers who intrude on the video link, or maskne, that type of skin irritation that comes from prolonged use of the mask.
IN 2000 
an online version was born where the Internet allowed and still allows to monitor linguistic changes in real time.
A very demanding job because it does not only concern i neologisms, but all those words which, thanks to technology, have taken on a different meaning and definition over the years.
LINGUISTIC TRANSFORMATION PROCESS
is undergoing an enormous acceleration in the last period and we too want to make a small contribution with the collection of some words that are entering the slang and taken from readings of newspapers and magazines.
CONCLUDING
(From the magazine la Crusca in rete, XIII, 2020/2 April-June)
The director of the "Resto del Carlino", responding to a reader on the subject of Anglicisms: "So wrote Mr. Angelo Ravaglia: Bologna, 29 March 2020"
<< In addition to the pandemic, Anglomania is spreading: lockdown, smartworking, checkpoints, clusters, triage, drive-thru, runners etc. The global virus also spreads the language of globalization with it. Without knowing these anglicisms, the emergency cannot be faced. Ideona: we have to translate everything into English, only in this way will we save ourselves. How will you say swab or mask? Oh yeah…so much for Brexit! Stay home! indeed stasìv a cà, as they say in dialect!>>  
Hence the idea of putting together enough material to customize a Nyx dictionary:
ANTI-LOCKDOWNS
anti block.
ALGOCRACY 
form of society based on the domain of algorithms.
CO-CREATION implement a market strategy that emphasizes the generation and realization of shared business value from the customer.
CODING in the school environment, it is a subject that aims to introduce the basic concepts of information technology in a simplified and fun way.
CUSTOM MADE
custom made
CLAIM
demand, in marketing the main promise made to consumers during an advertising campaign; central text of an advertisement.
DAD
distance learning.
DATA BREAK
personal data breach.
DIGITAL DETOX
detox from social media for a while.
DROPLET
set of droplets emitted from the mouth.
FAKE NEWS
redacted articles with made-up information
PHASE
align, agree.
FOODIES
person interested in all aspects of food: presentation, consumption and convivial aspect.
HOUSING
in IT, a service similar to hosting with servers owned by the customer.
INCIPIT
in current language it indicates the beginning of a show or a speech.
INTERCONNECTED
mutual connection between facts, connection between two systems such as the connection between telephone networks.
INTRO
animation in opening a website and introductory phase of a piece of music.
PHYGITAL
in marketing, the shopping experience is the connection between the physical and digital worlds.
SMART WORKING
agile work characterized by the absence of time and space constraints, one works to achieve objectives.
SOCIAL-BAIT (BAIT)
they are posts, messages, videos on social networks chosen to induce those who see them to share them.
TRIGGER
to trigger, to set off
WEBINARS
interactive seminar, remote conference through the use of electronic tools.